Toggle Switch Design Inspiration with HTML and CSS Code. We have collection of hand picked CSS Toggle switchs. Toggle switchs mostly used for on/off functionality.
Article will be helpful for designers and non-coders. Find HTML, CSS Code Snippets for toggle switch.
Comment your favorite Toggle switch(s) or comment the switch(s) which you admired from external resource.
1) Light/Dark Mode toggle Navigation Bar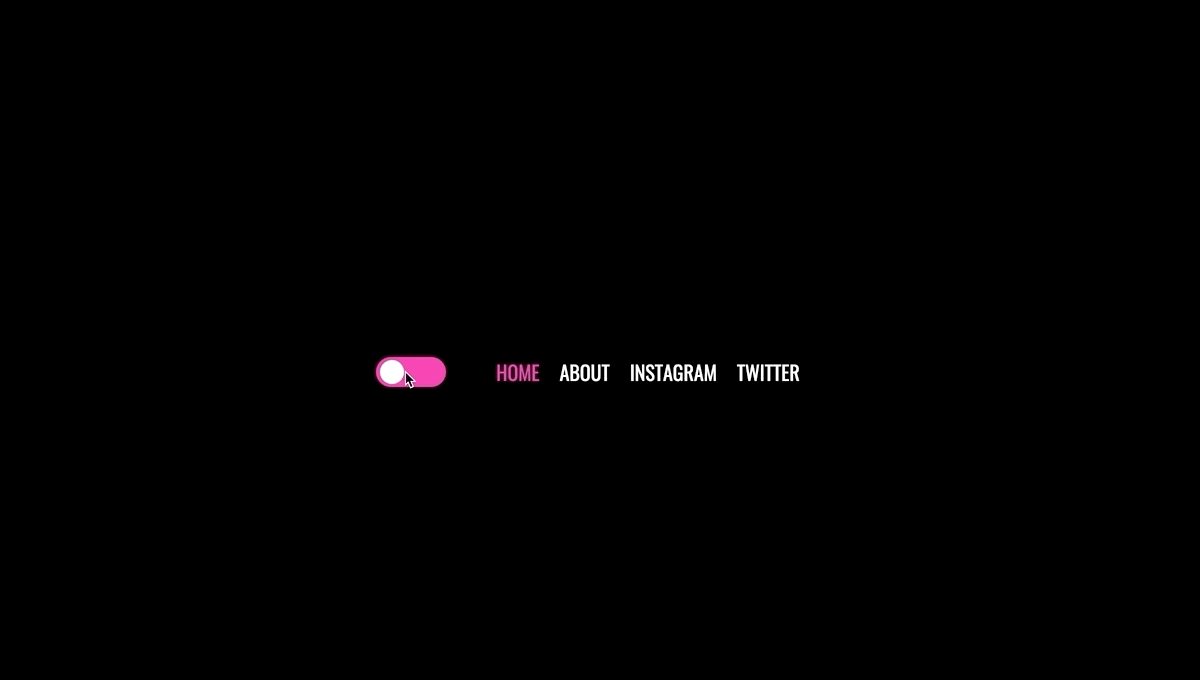 Switch between Light/Dark mode with the toggle.
Author:
Sasha
Created:
JANUARY 22, 2019
Made with:
HTML, CSS and JavaScript
2) Simple Knobby Toggles
Simple Knobby Toggles
Author:
Daryn St. Pierre
Created:
JANUARY 08, 2019
Made with:
HTML, CSS
3) Project Management Triangle Selector with React + CSS Grid
Try selecting all three options! Feel free to share this little form with new clients!. The classic iron triangle was recently shared with me in a chat and I figured I'd put together a little form component for it. Instead of wiping only one option it resets, so you could in theory extend the component to work as a multi option radio button
Author:
Jhey
Created:
JANUARY 08, 2019
Made with:
HTML, CSS and JavaScript
4) Button.css: CSS3 Button Animations
A collection of CSS3 button animations. Designed to demonstrate the uses of CSS3 animations, Button.css is intended to provide a lightweight and refreshing user experience. Flip, 3-D Flip, Slide, Switch and Water Fill
Author:
Zixuan(Kevin) Fan
Created:
MAY 11, 2016
Made with:
HTML, CSS and JavaScript
5) Pure Css "day and night" toggle
This is a fork of Benjamin Réthorés Pen http://codepen.io/bnthor/pen/WQBNxO with the addition of the background changing colour to match the AM or PM
Author:
Wayne Dunkley
Created:
NOVEMBER 25, 2015
Made with:
HTML, CSS
6) Collection of some fresh, flat toggles
Collection of some fresh, flat toggles. All utilize the "checkbox" hack.
Author:
Bennett Feely
Created:
APRIL 26, 2013
Made with:
HTML, CSS and JavaScript
7) Accessible toggle-style checkbox
No javascript required! Easily customize the toggle's appearance by changing the values in the mixins. Go from the default styles to an iOS-style toggle in seconds! Mixins provide control of everything from the color scheme to the transition timing function.
Author:
Chris Hart
Created:
SEPTEMBER 09, 2014
Made with:
HTML, CSS and JavaScript
8) Bootstrap Button Toggle (On/Off Switch)
Working on a client project that will be using Bootstrap, and needed to build a toggle/switch that came in a couple different sizes. I wasn't seeing that as a built-in option within Bootstrap, and I didn't really like the ones already out there that I found from a quick search (I didn't want to use a plugin, just wanted it to utilize Bootstrap's built-in JS), so I decided to make my own.
Author:
Aanjulena Sweet
Created:
FEBRUARY 16, 2017
Made with:
HTML, CSS
9) Pure CSS toggle buttons
content
Author:
Mauricio Allende
Created:
MAY 05, 2014
Made with:
HTML, CSS
10) Single-element Toggle Switch
Just another toggle switch.
Author:
Keith Pickering
Created:
JANUARY 11, 2015
Made with:
HTML, CSS and JavaScript
11) A bunch of funky CSS3 Toggle Buttons
A collection of toggle buttons that use CSS3 transitions to animate their state when interacted with. Created using HTML and CSS (no JS).
Author:
Ashley Nolan
Created:
FEBRUARY 11, 2015
Made with:
HTML, CSS
12) Toggle transition face
Toggle transition face with pure CSS!
Author:
Katherine Kato
Created:
MARCH 09, 2018
Made with:
HTML, CSS